It has been awhile, and silence means we have been busy as hell. We are almost done tracking a bunch of new songs and things are going nicely. NYC is having a rough time of it right now, and we are glad to be hibernating and working on our new material. Hopefully we will have something mixed to put up here soon. In the meantime, be sure to come catch us at the Mercury Lounge on Memorial Day, as it may be one of our only shows of the summer.
Thanks Payne Weber. Well, probably better: big thanks to ALL of the folks who showed up to our show at arlene on saturday, especially; Stephanie and the Payne Weber crew, the unstoppable Suzanne, the ever-fabulous gilded-cocksman Nick and fellow carouser Jed, the sirens Marci & Bethany, the hot-chick-poker-posse Jen, Elle, and Robo-Force, "I caught the last song" Cullen and Alé (who saw the whole damn thing!), hall-mate Alec, Ron "my bat is made of wood" S, and of course Josepi and young Kate, smooth-as-silk Chris V., and the legal-eagle Matt F., the ever-loyal dynamic-duo of Tony and Theresa, the indubitable Mr. Pod and lady Elizabeth, and outlaws Jesse and John from the Prince Clan, and everyone else.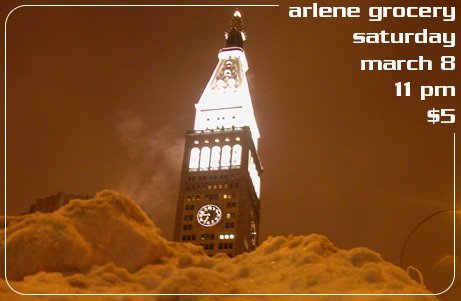 So, we archived all of the 2002 news. If you would like to re-visit any of the year gone by, use the archive link above to see the pictures, smell the smells, and share in all the good news we received over 2002.
Now for the news: We got back from Harrisburg, PA, just in time to nestle in for the snow storm. Read CT's Harrisburg diary for all the details...
Well, we are really psyched to return to arlene grocery after playing two quiet venues. Nothing warms our hearts like a fireside chat at the Butcher Bar after a good set at arlene this Saturday night. Come down and see why we have ants in our pants, or just read John's incredibly insightful take on things. We can't really say it any better.
FM is on the air again in Medford Mass, on 91.5 WMFO who are playing Dawn Had Hopes. If you would like to request FM in Boston/Medford, email radio Tony (or visit him. We are currently working on booking some Boston area shows, in addition to some western NY travels as well.
Big thanks to everyone who has ordered Satellite Life online.
We recorded practice yesterday, and by jove, we have another album's worth of material already. Is it time to record again so soon? These new songs will be played at our upcoming shows, so get yer ass out the door sometime.